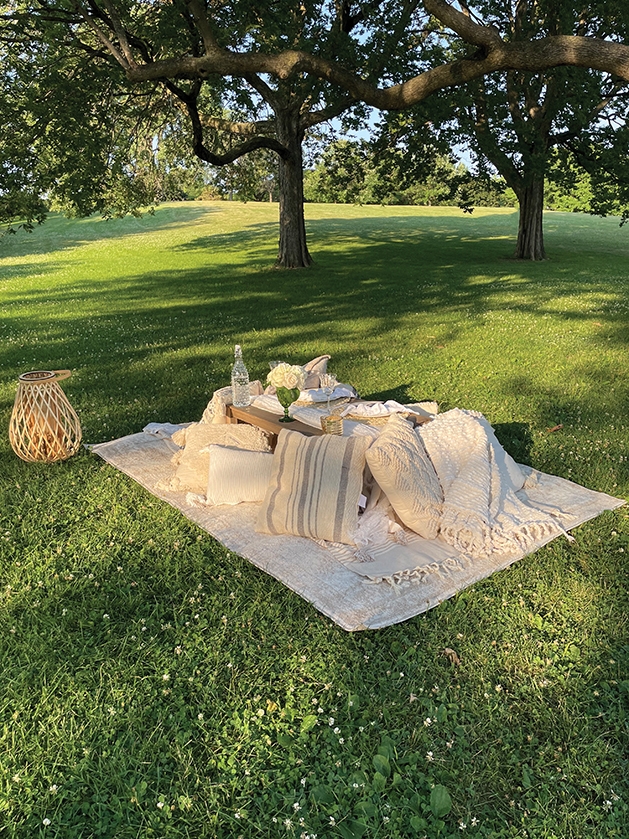 Courtney Smallbeck offers a new take on a summer tradition.
In March 2021, local Courtney Smallbeck, like many of us, found herself with a fairly empty social calendar. The difference in Smallbeck's case was she's an event planner. "My friend Melissa called me up and said, 'How do you feel about picnics?'" Smallbeck says. It was then that she became introduced to a trend already sweeping the West Coast: boho-style luxury picnics.

"I, of course, loved it because it channels so many of the things that I enjoy about event planning and also dining outside," Smallbeck says. "I started Perfect Picnic Co. thinking that perhaps we would just do a few picnics over the next month, but as it turns out it really took off … by the end of summer I'd booked over a hundred picnics."

Unlike her West Coast inspiration, Smallbeck doesn't err on the side of minimalism. Smallbeck says she focuses on layering "beautiful items," as she calls them. From unique tableware and fresh flowers to knotted napkins and etched glass goblets, Smallbeck's picnics are informed by her own personal aesthetic. "It feels like it shouldn't be in a park," Smallbeck says of the finished picnicscapes. "It feels too elevated to be part of a picnic, which just makes the experience very magical."

The style seems to resonate with viewers on social media, who, Smallbeck says, are usually familiar with her posts and ask for packages based on their favorite styles. Smallbeck also coordinates with each client, drawing from a horde of décor elements in a well-organized storage unit to match color scheme and various themes her picnickers have in mind.

Food options are equally open to collaboration, from bring your own to catered eats from a Maple Grove company called The Diner. "We started out offering food with all of our packages, but we found that a lot of people like to bring their own," Smallbeck says. Now, picnics are split into two options: the set up or an upgrade to food options as well.

"Our basic picnic includes delivery and set up and includes a large rug, a custom wood picnic table, plentiful pillows and cushions in various colors depending on what color scheme you'd like to go with," Smallbeck says. "I include a table runner, boho décor, candles, fresh flowers and then we do a complete setting for each guest which is placemat; at least a plate, sometimes several plates layered up; napkins; silverware and a glass wine goblet. In the fall we also add blankets."

If clients are looking for food, Smallbeck says fancy charcuterie plates are a perfect item for a picnic, but the offerings don't end there. "We also offer things like picnic sandwiches, salads, we do little tea sandwiches sometimes or cake balls are another popular ask if you're celebrating a birthday."

Smallbeck says the best part of her work is seeing people's faces when they walk up to the picnic. "I think they somewhat know what to expect, because we have a lot of photos on our website and social media, but photos cannot capture the magic of a luxury picnic," Smallbeck says. "When you walk up to it, you can usually see it at a distance, it's just … this avant-garde experience that's set up just for." Smallbeck says she's set up picnics from Maple Grove to Mahtomedi, with many sprinkled throughout Wayzata, Mendota Heights, in any one of Minneapolis' numerous parks or simply someone's backyard.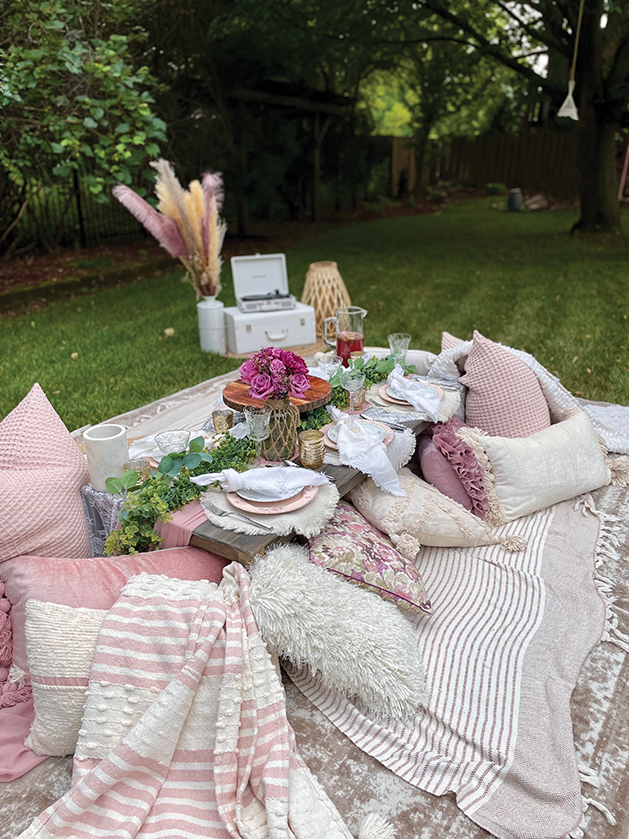 A question Smallbeck says she's often asked is what happens when it rains. For light sprinkles, Smallbeck sets up a clear bubble tent over the picnic which she says ultimately makes things cozy and intimate, especially if there's a chill in the air. If the weather is inclement or the group is larger, Perfect Picnic Co. brings the picnic to client's homes.

"This summer when it was a group of people for a bridal shower or a baby shower and they didn't want to reschedule, in those cases we moved them inside their homes and created a little oasis in their living rooms," Smallbeck says. "[It] sounds like it would be a little disappointing but in fact was really charming."

Thankfully for one autumn picnic in mid-October, the weather held and gave a couple the chance to experience a life-changing picnic in a special outdoor location. "Ben [Rorvick] reached out to me and initially didn't tell me it was a proposal," Smallbeck says. But when Rorvick's questions made Smallbeck suspicious, she says he confirmed that it was.

"His soon to be fiancée really wanted to be engaged looking out on Lake Minnetonka," Smallbeck says. "Unfortunately, most of Lake Minnetonka is private property." Smallbeck and Rorvick did some research and discovered a space in front of the Wayzata Library that included a view of the lake and the city. Smallbeck says it was just perfect, and she set to work ensuring the proper permits to make the location happen.

"It was absolutely stunning," Rorvick says. He had a picnic in mind as the setting for his proposal and found Perfect Picnic Co. online. "The picnic that [Smallbeck] set up was more than I imagined it would be," he says.

Smallbeck says she devotes extra time to proposal picnics because they're such a once-in-a-lifetime event. In Rorvick's case, he says he incorporated the fall colors his fiancé loves through pillows and chose the tent as a special touch.

"We did a picnic for two and we also set up our lace teepee, which they sat inside of while seated at the table," Smallbeck says, noting the teepee was carefully aligned to look out on both the city and the lake.

Rorvick says the spot was picture perfect. "It was a great picnic fit for our engagement. [Schumacher] was shocked and said, 'Yes,' of course!"
perfectpicnic.co
Facebook: Perfect Picnic Co
Instagram: @perfectpicnics.msp