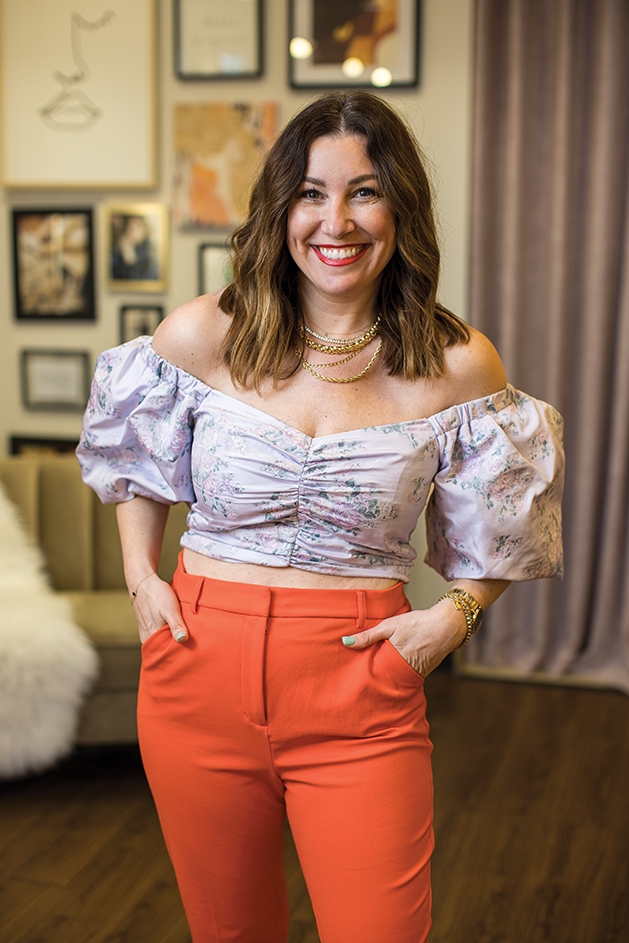 Mezmira clothing stylist provides easy solutions to edit your wardrobe
As a local stylist for over 10 years, Maple Grove resident Amy Seeman always knew her passion lied in fashion. Her favorite pastime as a child was playing dress-up in her closet, finding new ways to reinvent her existing pieces. "Fashion is one of the greatest forms of self-expression and it is truly a creative outlet for me," she says. "It is the safest place where I can push new boundaries and try new things without real repercussions for getting it wrong."

Growing older, she took this skillset to the next level and began assisting her friends with their wardrobes. "I mastered my craft simply by doing," Seeman says.

Transitioning into fulltime styling in her later years, Seeman eventually sought after an opportunity last year to fuse her corporate background and her love for experimenting with clothing. Joining the Mezmira team (a digital platform that provides professional styling to professional women) as the head of styling and fashion last spring, she says she can help empower women to look and feel their best.

"There is a lot of women, especially in corporate America, that don't have the time, the skillset, the energy or the tools to figure out how to get dressed right," she says. "We want to make fashion easier and more accessible to the working woman."

With a push for consumers to consistently buy new things in the market, Seeman says this causes many of our closets to fall flat or contain too many items that we barely wear. To counter that, she works with each client via Zoom to pare down their wardrobes in a way that is most sustainable to their lifestyles and their wallets. "Fashion continues to grow and evolve. It is not a one size fits all," she says.

Diving deep into each closet, she helps clients declutter, reimagine old favorites and evaluate the gaps within their preexisting selection while also adhering to their unique styles. "It truly is transformative," Seeman says about her experience working with clients. "Whenever they have that aha moment discovering something that no one has ever told them in their life … it is those light bulb moments that truly are educational and empowering, and it builds their confidence."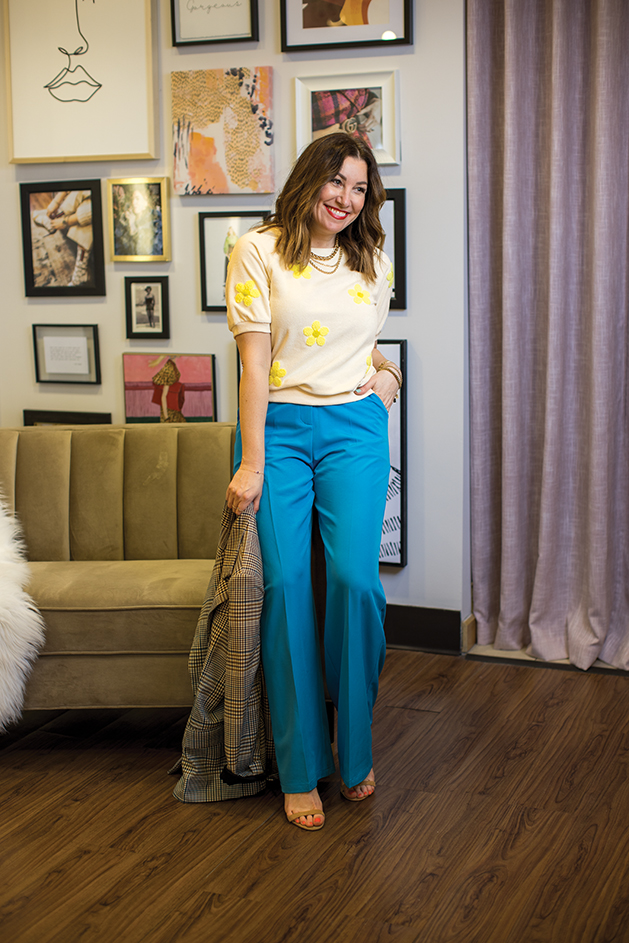 Blazer and yellow flower set: Urban Eve
Blue trousers: Queenie and Pearl
Layered necklaces: Express at the Shoppes of Arbor Lakes
Express at the Shoppes of Arbor Lakes, 121413 Elm Creek Blvd. N. Space A26; 763.424.7921; express.com
The Shoppes at Arbor Lakes @express
Queenie and Pearl, 5014 Xerxes Ave. S., Mpls.; 612.413.8560; queenieandpearl.com
Queenie & Pearl @queenieandpearlmn
Urban Eve, 190 Westfalen Trail Suite 300, Medina; 763.478.8100; myurbanevemn.com
Urban Eve Medina @urbanevemedina
THREE_DAY WEEKEND GETAWAY
Incorporate items you can reinvent to reduce the amount in your bag and give you more options in case of schedule or weather changes. Seeman says to consider garments as simple as an ivory-toned knit sweater that can either be worn comfortably or dressed up with jeans or trousers for a seamless transition to a night out on the town.

We asked Seeman what essentials should be packed in a carry-on for a quick weekend oasis.
A silk pajama set is an easy way to add a chic touch to an evening out and it takes less space in your suitcase. Seeman suggests pairing one of these silk tops with your favorite pair of jeans, some simple booties and a fun hat.
Wide leg silk pants are easy to transition option from day to night and is also a great way to add a pop of color to the fit. Seeman's current go-to is pairing these with a simple sweater and sneakers.
Invest in a classic car coat you can throw over loungewear for a coffee run or with a blouse and jeans for a night out.

Finishing Touch
Jewelry is the cherry on top to any outfit. Start subtle with layering dainty necklaces. From there, you can dress the combination up/down to fit the occasion. Try mixing in one or two chain varieties or play with pendants to incorporate your own unique flair to classic staples. Seeman also recommends bringing a statement earring as an easy way to dress up a simple knit.

When you don't have time to fix your hair or the sun is just too bright, Seeman suggests a wide brim felt hat—an easy way to bring color/texture to your outfit.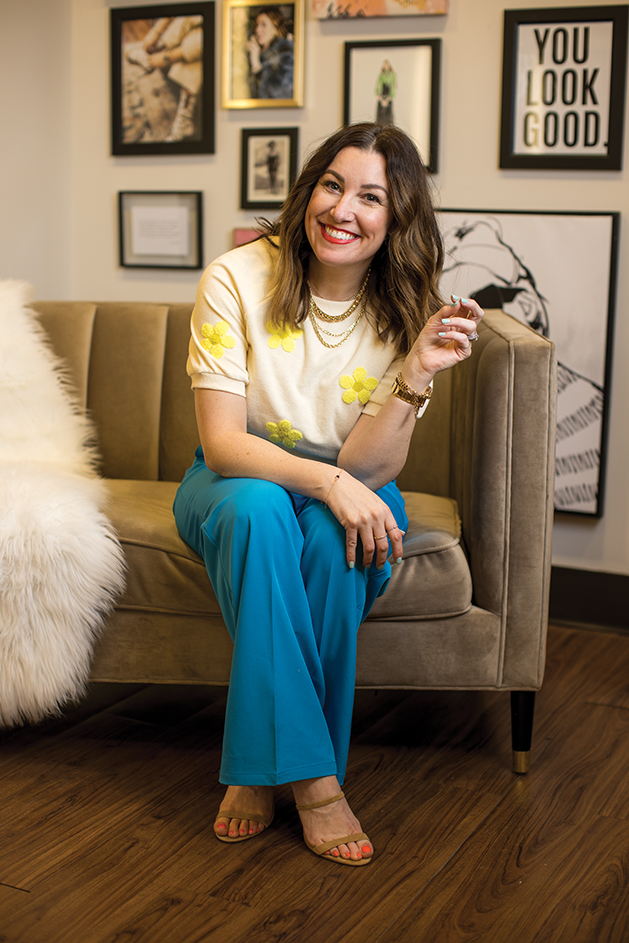 See What's Trending
Staying up to date with the everchanging trends can be tough, but Seeman says it all comes down to choosing garments that are genuine to your lifestyle. "I always say do you. If it doesn't work for your body type or doesn't feel authentic to who you are, sit that one out," she says. "You don't have to be on trend to still look polished and fashionable."

Seeman offers her take on the trends that are worth feeding into this season.
As a wardrobe staple, the blazer is an incredibly versatile piece. Take your look from day-to-night by swapping out trousers with loose fit jeans and sneakers. For a fun and flirty option, pair it with a dress to create the perfect "boy-meets-girl" aesthetic.
Cutouts in garments and cropped shirts are here to stay, but Seeman says you can adhere to this trend without feeling too exposed. Try for a high waisted paint to offset the amount of skin showing and create balance with your look.
For added texture and movement try a fringe on a jacket or on the hem of a dress.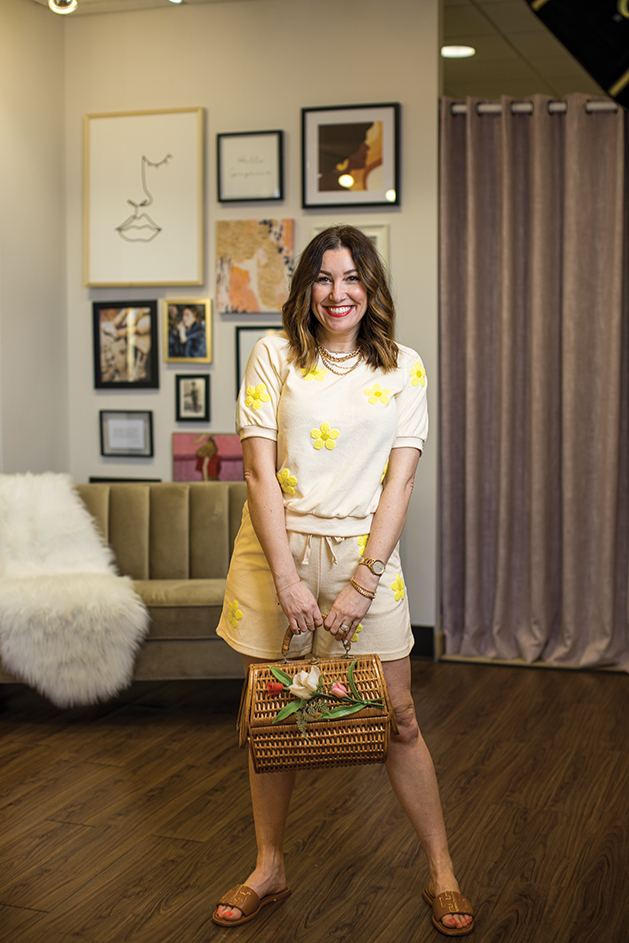 Ava Diaz gets Styled
I have always found value in showcasing my personality through clothing. I love wearing bright colors (my favorite colors are yellow and orange) and diverse textures. However, I draw the line at patterns. As one who is always searching for ways to be unique, I found the need for the in-between. A balance of basic neutrals if you will. Working to reinvent what I already had, I hopped on an hourlong zoom call to talk with Seeman about my lifestyle, my fashion challenges and my favorite places to shop. After learning a bit about my personality and my wardrobe goals, we dove into my closet. Pulling some of my favorite pieces (my multicolored pastel boots, an array of puff sleeve shirts, a teddy brown corduroy puffer coat, fur trimmed cream cardigan and a long sleeve, lime green tie top), we discussed ways to elevate the garments even further through layering, color and silhouettes.

To bring new life to the pieces I already own, Seeman used a color wheel to explain the science behind color blocking. Using my Kelly-green trousers as an example, she explained the relationship between certain tones and why what might seem random actually works. Suggesting complimentary colors such as cobalt blue and lavender, she also fed into my love for warm-tone hues like tangerine and hot pink to contrast against the pants.

After our first meeting, she followed up with a list of links to items that fill the "holes" in my closet. Some of the pieces included were a blue silk midi skirt, orange and lime blouses, leather pants and many structured blazers. For each garment, she provided ideas on how to pair it with the other suggested items, as well as the pieces in my own closet. Her ability to pinpoint my taste with these fashion finds was astonishing and I truly had a blast learning from her expertise.

Mezmira; mezmira.com
@mezmira_styling
MAIN PHOTO OUTFIT: Floral cropped top: Express at the Shoppes of Arbor Lakes
Orange trousers: Express at the Shoppes of Arbor Lakes