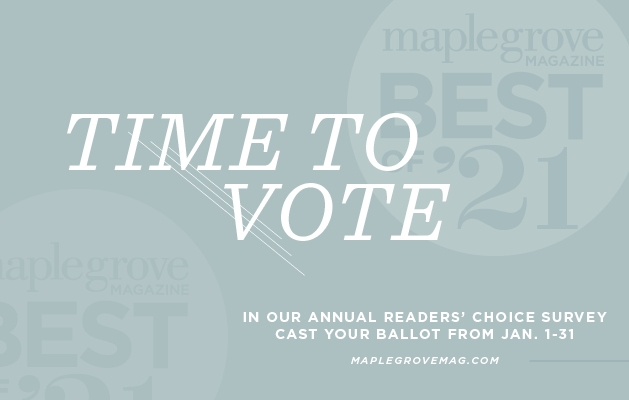 Voting is now CLOSED.
The results of our annual readers' choice survey will be featured in our July "Best Of" edition of Maple Grove Magazine. We would like your feedback to fill this issue with the best that Maple Grove has to offer!
Take a look at this year's voting rules and guidelines and our full list of categories. Voting is open from January 1 to January 31, 2021.
Many common questions are answered in the FAQs section at the bottom of this page.
3 Simple Rules*
One entry allowed per person; each ballot must include an email address.
Ballots must be completed by 5:00 p.m. on January 31, 2021.
Voters should vote in at least 5 categories to ensure their ballot is counted.
*If any rule is not adhered to, entire survey may be thrown out. All results subject to editorial discretion.
Categories
Food & Restaurants
Best Outdoor Dining
Best Restaurant
Best Tavern / Bar / Brewery
Best Breakfast
Best Curbside / Takeout
Homes
Best Builder
Best Remodeler
Best Interior Designer
Best Landscape Designer
Best Senior Living Residence
Best Nursery / Garden Center
Best Home Furnishings / Décor Store
Health & Wellness
Best Fitness Studio / Yoga Studio / Gym
Best Dental Practice
Best Orthodontic Practice
Best Chiropractic Practice
Best Pediatric Practice
Best Eye Practice
Best Dermatology Practice
Best Medspa (must have physician medical director on staff and offer injection procedures)
Best Salon / Spa
Shops & Retail
Best Apparel Boutique
Best Gift Shop
Best Florist
Best Specialty Foods / Kitchen Store
Family & Kids & Pets
Best Doggy Daycare / Kennel
Best Private Preschool / Childcare
Best Law Firm
Best Veterinary Practice
Best Learning / Tutoring Center
Best Place for Kids' Activities
Frequently Asked Questions
How do you choose the categories?
Each year, the editorial and management teams evaluate our list of categories for the survey, usually eliminating a few of the less popular ones—where fewer people voted last year—and adding new topics to keep things fresh. We always take into account feedback from our readers; we appreciate hearing about categories you'd like to see added.
How does voting work?
From January 1 to January 31, we invite readers to go online to vote for their favorite local businesses, people and organizations in each category. 
How did these businesses get nominated/on the ballot?
The winners and finalists from the 2020 contest and editor's picks are the nominees on this year's ballot.
My favorite business isn't on the ballot. What can I do?
Each category includes a write-in field. If your choice doesn't appear on the ballot, simply write them in. If a business isn't included on the ballot, that business did not receive enough votes to be a winner or a finalist in the 2020 contest.
What are the rules for voting?
For a voter's ballot to be valid, it must adhere to the following standards:
Readers cannot vote more than once.
Readers should vote in a minimum of 5 categories for their ballot to be considered valid; ballots with votes in fewer than 5 categories may be eliminated. Again, this is to obtain a fair representation of selections by readers.
What's a "finalist" vs. a "winner"?
The entries with the most votes in each category become finalists, and the top vote-getter is the winner. When votes have been tabulated, our editorial team fact-checks the address and contact information for each finalist. If the finalist is no longer a valid selection due to a closed business, etc., we move to the next highest vote-getter, who then becomes a finalist.
Can a business or organization be a finalist if it's located outside of the magazine's coverage area?
In order to qualify as a finalist in the survey, the business or organization must be located in the community and/or provide services to local residents.
I'm a business owner. How can I get on the ballot? How can I get more votes?
We rely solely on readers to select or write in their pick for each category. We invite you to spread the word! If your business wasn't one of the top vote-getters in last year's contest, it will not appear on this year's ballot. This year, encourage your clients, fans and friends to fill out the write-in section in your category for a chance to win.
Where can I find the list of finalists?
Finalists will be posted online in March.
When will the winners be announced?
The winners will be announced in our special "Best Of 2021" edition of the magazine, which comes out in July. Winners will also be announced online on July 1, 2021.
What happens if I win?
Winners can request a free digital copy of the "Best Of 2021" magazine cover design, which also indicates your winning category and your business or organization name. Winners can also purchase a framed award certificate. (The framed award certificate is 14 x 17 inches and features a black wood frame.) The cost is $85 per framed award certificate and includes shipping and handling.
Tiger Oak Media reserves the right to use emails collected for internal promotional purposes, including newsletters. Tiger Oak will not share your email with any third parties.